Do you remember in 1998 when a record was released made entirely from old Beck Hansen samples? It was called 'Deconstructing Beck', and the master-mind behind the record was a guy known as Philo T Farnsworth. Of course, that isn't his real name - the nature of his work means he has to remain anonymous to avoid legal action from the music labels whose artists he samples.
Philo's current project is Illegal Art - an online label entirely devoted to showcasing the possibilities of electronic sampling. As a platform for both new and old sample-based electronica, Illegal Art is an avenue through which experimental artists can showcase work that must otherwise remain private.
'Champions of Wonder' by Oh Astro is a wonderful example of this kind of stuff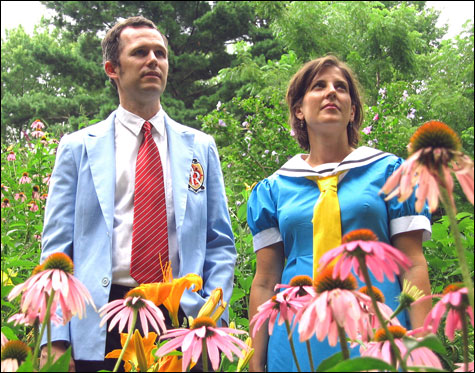 Combining fragments of pop, children's songs, electro, soul and rock, husband and wife Jane Dowe and Hank Hofler (and sometimes collaborator Stefen Robinson - aka Yea Big of Yea Big and Kid Static) create stuff that is at once new and nostalgic. The songs are playful and whimsical, and while listening I felt I had already heard each track, but couldn't quite pick every sample. What I love about the album is that it isn't at all frenetic (like Girl Talk's 'Night Ripper' for example) but quite ambient and glitchy.
'Champions...' is their full length record, and is well worth the US$10 (approx AU$15) Grab it via the
Illegal Art webstore
, shipping takes around 10 days. Then, if its your kinda thing, submit your own tunes
here
Once you've had a listen, you can read up on the samples
here
I didn't though... I kinda prefer guessing!