I'm feeling restless at the moment. I cant concentrate on one thing, but keep jumping between university, radio work, writing work, moving house... I'm sure you know the feeling- when there are so many ideas in your head, you cant concentrate. On anything!
I get like this every few months. And rather than dealing with it and getting shit done, I decide I should fuck off and see the world, and start making grand plans to travel to NY, Paris, Belgium, Berlin, London...
Bastien Lattanzio has a blog called
ugly smile
and whenever I feel like I do now, I always escape the banality of my everyday through his photographs.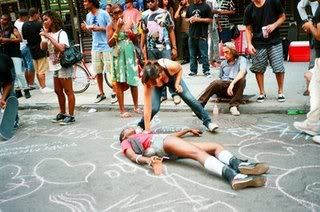 At once intimate and ephemeral, Lattanzio's photographs have such a infectious positivity. Plus, the parties always look so fucking rad! Call me a voyeur, but I love these vignettes of other peoples lives - probably because I will never meet the folk in the pictures, and so have no emotional investment in the images.